Back to return to this page
Adams County, Indiana - Amish Country Day Trip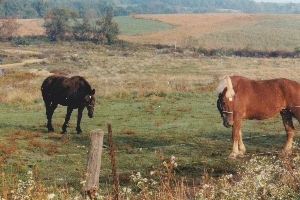 Troyer's Market 891 W 300 S-1, Berne, IN 46711 - Some prices such as cheese are hard to beat.
Possible Lunch option in Decatur Indiana such as Back Forty or The Galley ($10.-15 range), then south bound six miles on US 27 past Monroe Indiana. There is a cheese factory in this area and also an Amish Bakery on the west side of US 27 as one continues south another four miles on US 27. At County Road W 300 S. turn east (left) with Troyer's Market driveway roughly a 100 yards from this intersection.
After leaving the store, continuing east will lead one into to Amish farm country and small Amish businesses. Eventually angling four miles to the north will get one back on Indiana Route 124 which changes to Ohio Route 81 at the state line.
Troyer's Market - Google Map location
Home - Historical Photographs of Van Wert - Place to see & Things to Do